Identify your vulnerabilities
before others do …
Company Profile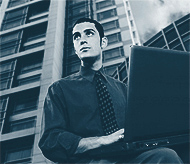 Profundis Labs is an IT security company based in Munich, Germany. Services provided range from the execution of penetration tests to security audits and source code reviews, to closely check on the security of systems and applications. We support and advice companies by providing a thorough consulting which is independent of manufactures.
The company was founded in 2011 by René Ledosquet and Philipp Rocholl. The two IT specialists, with a master in computer science, have gained several years of work-experience, as well as, a holistic knowledge in IT security.
Profundis Labs employs specialists having audited a wide range of systems and applications. Their profound experience and knowledge can be validated by several certificates.
Contact
Profundis Labs GmbH & Co. KG
Klausenburger Straße 9
D-81677 Munich / Germany
Phone:
+49 89 235 1939 60
Fax:
+49 89 235 1939 61
E-Mail: